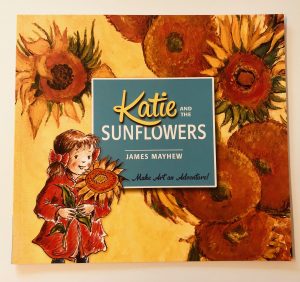 This book is aimed at slightly older toddlers, but if you like art and have a child who will happily sit still for a 10 minute story then I would definitely recommend it!
The clever tale is about a little girl called Katie who visits an art gallery with her grandma. Katie finds herself standing in front of Van Gogh's 'Sunflowers' and is amazed at how real the flowers look. She reaches forward to touch them and her hand magically goes right in to the painting! She is so shocked that she knocks the vase and the sunflowers fall right off the canvas and on to the floor of the gallery. What on earth should she do now?
What follows is a magical adventure which involves hopping in and out of a number of famous artworks and enlisting the help of their subjects. One of the girls from 'Breton Girls Dancing' by Gauguin is particularly helpful but her little dog Zazou causes all sorts of trouble and soon lots of the paintings are in disarray!
Will Katie and her new friends be able to fix the problem before any of the grown ups at the gallery notice?
We love this story and it's a fantastic way to get kids interested in art from an early age. The illustrations are fascinating for both children and adults alike as each page shows a different artistic style – plus it's fun to see the contents of such well-known paintings get all mixed up together!
This is just one of a series of art-related books featuring Katie. She also has adventures with Monet's Waterlilies, Van Gogh's Starry Night,  Da Vinci's Mona Lisa, and many more!
Buy from Bookshop.org and support independent bookshops: https://uk.bookshop.org/a/155/9781408332443
Buy from Amazon UK: https://amzn.to/2DCV5Ah
Note these are affiliate links and Ivy's Library will receive a small commission if you choose to purchase through them.