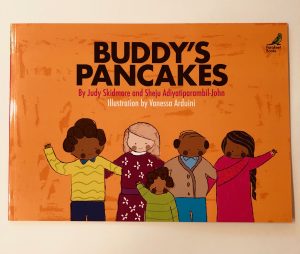 We have recently discovered Parakeet Books – a small independent publisher whose focus is on stories which are truly inclusive – and we LOVE their ethos. Our favourite title so far is Buddy's Pancakes, a story which will be very familiar to parents of fussy toddlers (us included!).
Buddy is a little boy who is far more interested in playing than eating. At breakfast time his dad asks him if he would like some pancakes and the answer is a resounding no.
As Buddy plays, his dad serves up food to the rest of the family and we see how everyone likes their pancakes a different way. Granny likes lemon and honey, Grandad likes blueberries, whilst Mummy prefers to have hers with slices of banana. Each time a new variation is suggested, they ask Buddy if he would like some but he always replies that he's not hungry.
Tired from all of the food preparation, Daddy finally sits down at the table and declares himself done. This can only mean one thing – Yup! Buddy wants pancakes now!
This simple story has been a big hit with Ivy and I love the fact the beautiful illustrations feature a family of mixed heritage.
Buy it now: https://www.parakeetbooks.com/our-new-book/buddys-pancakes/
Disclosure: The publisher provided us with a copy of this book in exchange for an honest review