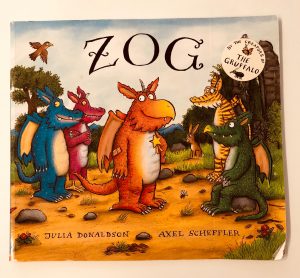 The combination of dragons and girl power make this one of our favourite collaborations between Julia Donaldson and Axel Scheffler.
Zog is a big orange dragon who loves going to Dragon School. He's really enthusiastic about his classes but he just can't quite get things right. He bumps in to trees whilst learning to fly, gives himself a sore throat trying to roar and accidentally sets his wing on fire whilst attempting to breathe fire. Fortunately each time he hurts himself a little girl appears with a bag of bandages and plasters and she fixed him right up.
When he gets to Year 4 the dragons have to learn how to capture a princess. Again Zog struggles until he discovers that his wonderful friend is in fact a princess herself. She allows herself to be captured in order to help him out and Zog gets a golden star from the teacher. She becomes a valuable member of the school, tending to the dragon's ailments with the help of her trusty medical bag.
Things take an unexpected turn when a knight appears to rescue the princess from the dragons, but Zog doesn't want to give her back.  They prepare to do battle but the princess has something to say. She explains that she doesn't want to be rescued and she doesn't want to be a princess prancing around in silly dresses. She wants to be a doctor and help people. Go Princess Pearl!
Zog and the knight are taken aback. What on earth do they do now?
Buy it now: https://amzn.to/2LuEG5G