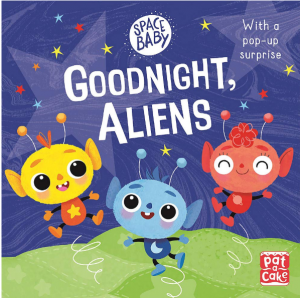 This adorable little board book from Pat-a-Cake follows a family of aliens as they move through their bedtime routine. We see the three baby aliens playing with their toys, eating their dinner, having a bath, listening to a bedtime story and then snuggling up to sleep.
The rhyming text is short and repetitive which gives it a lovely sing-song feel. It's a soothing read for babies, and toddlers will love memorising and repeating the lines back to you.
The colourful illustrations are super cute and there's the added bonus of a pop up surprise on the very last page.
Ivy finds it fascinating to see the little creatures doing activities which are very familiar to her but in an unfamiliar setting. She is adamant that aliens don't eat peas or have bubble baths but she likes the fact that they have star-shaped cookies and their own puppy!
'Goodnight, Aliens' is part of a series of board books called 'Space Baby' which also includes 'Out of this World', 'Blast Off!' and 'Zoom to the Moon'.
Buy it now: https://amzn.to/2xNGwtv
Disclosure: The publisher provided is with a copy of this book in exchange for an honest review.