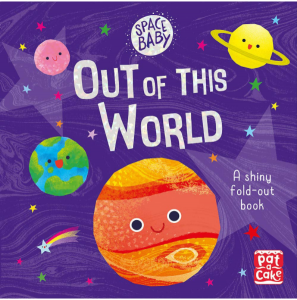 It's World Space Week so I thought I would share this gorgeous little board book which is perfect for babies and toddlers.
Featuring bold illustrations and lots of eye-catching shiny sections, it introduces small children to some very big ideas. The pages are folded like a concertina and they are designed to be stretched out to create a frieze. You can use it to keep a baby entertained during tummy time by standing it up in front of them, and toddlers will enjoy sitting in the middle of it  and interacting with the pages.
On one side of he frieze we see all of the planets laid out in order. Each of them has a very expressive face (which can be used to talk about emotions)  and a descriptive name which tells us something about that specific planet – Little Mercury, Red Mars, Cold Neptune etc. As someone who was born in the seventies I love that there is also a little nod to Pluto as I refuse to accept that he's been downgraded!
On the other side we see the view from the international space station, with satellites, stars, rockets and even a cute little alien in a spaceship. Toddlers will love picking out the different details and there's lots of opportunity to count and identify colours.
It's perfect for tiny space lovers and an ideal way to introduce STEM material to your child's bookshelf at a very young age.
Buy it now: https://amzn.to/2GxbScb
Disclosure: The publisher provided us with a copy of this book in exchnage for an honest review.