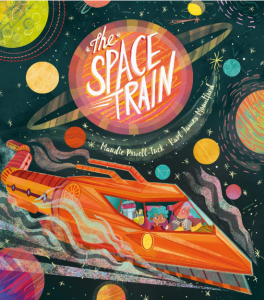 Jakob lives on a space station at the very edge of the galaxy with his granny and a robot chicken called Derek. Life is good, but deep down Derek really wishes he had some friends to play with.
One day, whilst exploring one of the empty decks, he finds an enormous abandoned space rocket. He shows it to Granny and her whole face lights up. This is the space train which she used to ride when she was a young girl! Once upon a time it streaked across the universe carrying star explorers and comet chasers to the 2,747 stations in the star network.
Jakob's mind starts to whirr. If he can get the train running again then he can travel to other planets and meet other children! Granny rolls up her sleeves and gets to work. Can they work together to fix the train and head off on an intergalactic adventure?
This beautiful book is perfect for little space lovers and I like how it shows two different generations working together to achieve a goal. Fixing the space train isn't a simple task and the story shows the importance of persevering when faced with a challenge.
The illustrations are packed with tiny details and Ivy is a big fan of Derek the robot chicken and the grumpy ToolBot!
Buy it now: https://amzn.to/2pihRZE
Disclosure: The publisher provided us with a copy of this book in exchange for an honest review.