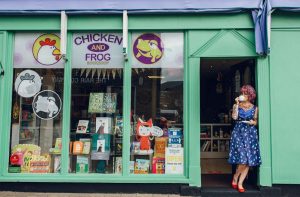 In this new series we will be shining a light on some of the fantastic independent bookshops from around the UK. Here, Natasha tells us all about her bookstore – Chicken and Frog in Brentwood, Essex.
"A little bit of background about the people behind Chicken and Frog. Natasha and Jim met at Epping Forest College in 1989, when the world was cool and double denim was still okay. They fell in love, got married, had kids and went about life as a primary school teacher and a tech nerd. But, in the back of their minds, the whisper to open a bookshop kept on tickling their ears…
Not to say that we are procrastinators, but after many years of what-iffing and daydreaming, Chicken and Frog Bookshop hatched in October 2012. 'Why?' Well, two reasons really. Firstly, we liked the idea of working together – we quite like each other. Secondly, and most importantly, we believe that fostering a love of reading, from a young age, is incredibly important. Children who read and are read to, tend to 'perform' better at school and increase their life chances. But, more than that, reading provides us with a new perspective on the world. Books offer so many things: escape routes; hidden spaces; nurturing nooks and crannies; empathy; understanding…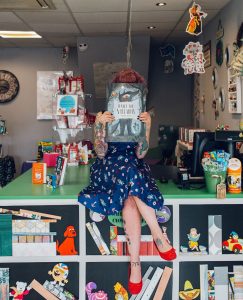 The bookshop has thrived. In January 2020 (great timing hey), we moved to larger premises. We're still in Brentwood, but now the shop is nested nicely in a beautiful pedestrianised street, surrounded by other independent businesses. We feel like we have arrived home.
We stock an eclectic range of titles, from bath books to gritty YA. Generally speaking, we are looking for something that you won't necessarily pick up in the supermarket. Celebrity authors aren't for us. They have their place; however, we'd rather give shelf space to less well-known voices – children deserve choices, and many authors and illustrators deserve a platform. We champion the diverse, the unique and most of all, quality.
When life isn't as challenging, we run lots of in-person clubs and events, including rhythm and rhyme for pre-schoolers; book clubs (8+ and one for adults who love children's books); creative writing club; school holiday events and author/illustrator workshops. We also provide tuition from KS1-KS4 in English and Maths. Everything has migrated online for now – fingers crossed for a summer event outside though! During lockdown, people can book in for a Zoom tour. And, we are offering free advice to parents who are home schooling – all for free.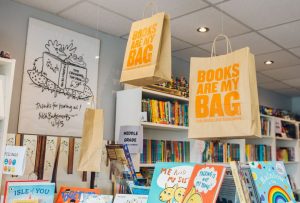 If I had to choose my top three books, I'd struggle. But, as you have asked, I will try. Just know that I feel very bad about all of the books that haven't made this list! Choosing just three books is so hard! I'd say 'Love Around the World' (Lonely Planet Kids); 'The Accidental Wizard' (Middle Grade, Kimberley Pauley) and 'Mad, Bad and Dangerous to Know' (YA, Samira Ahmed).
Visit our website at www.chickenandfrog.co.uk
Email us: [email protected]
Follow us on Twitter and Instagram
We have a 'store' button our website, for home deliveries. Or, you can email us for collection and advice."