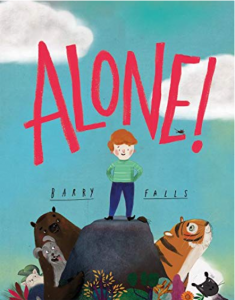 On the edge of a busy, bustling town is a hill with a little house on top. This is the home of Billy McGill, a solitary child who avoids people and noise. He enjoys his own company and spends his days alone with his books for company, until one day he hears the squeak of a mouse…
Billy definitely doesn't want to share his house with the tiny furry creature so he heads into town to fetch a cat to scare away the mouse. This seems like a great idea, until the two animals unexpectedly become friends. Billy then finds a dog to scare the cat, but this doesn't work either. The boy's plan soon spirals out of control and he soon finds himself co-habiting with a mouse, a cat, a dog, a bear, a tiger, a vet, a sheep, a hairdresser, a baby and a big red balloon!
Overwhelmed by the noise and the chaos, Billy storms out of his house and finds a new hill, but as he stares into the sunset he finds himself thinking of everything he has left behind. Could he be ready to let some new friends into his life?
Ivy finds this heartwarming book really funny and she's drawn to the bold, brightly coloured illustrations. The rhyme scheme is really tight so it's an absolute pleasure to read aloud. I've lost count of the number of times we've read it at bedtime since it arrived!
I have to admit that this story really struck a chord with me. Right now we're all climbing up the walls in our own homes and the distant promise of being able to socialise with friends again is both alluring and a little bit scary. We're craving the alone time which Billy holds so dear but we know how important it is to spend time with others.
I also like the way the ending is dealt with. Billy is undoubtedly an introvert so it would be unrealistic (and painful) for him to suddenly spend 100% of his time in the company of others. Instead he finds a compromise which works for him. He continues to live on his solitary hill, but once a week he invites his new friends around for tea. Sounds pretty perfect to me!
This book publishes in the UK on March 4th 2021 and is available to pre-order now.
Buy from Amazon UK: https://amzn.to/3srfJK9
Note these are affiliate links and Ivy's Library will receive a small commission if you choose to purchase through them.
Disclosure: The publisher provided us with a copy of this book in exchange for an honest review.