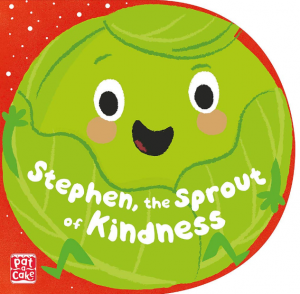 "Time to help!" thinks Stephen Sprout. " I know a way to sort this out…"
Love them or hate them, sprouts are an essential part of Christmas, and the sprout in this book is extra special. Stephen is a sprout of kindness!
Whenever he sees a child in distress, Stephen knows just what to do. He helps a lost girl find her friend. He makes sure everyone gets a turn on the swings. He helps people understand how to share. He even gently helps someone overcome their fear of the water. Stephen spreads kindness wherever he goes and his friendly enthusiasm is infectious.
We love this gorgeous little board book and it's been requested repeatedly since it arrived. The rhyming text is super tight which makes it really fun to read aloud and the brightly-coloured illustrations have lots of lovely detail.
Stephen teaches children all about the power of kindness and there's a lovely section at the back which suggests different ways you can be kind to the people around you.
Although packaged as a book for Christmas, this is definitely a story you can enjoy all year round!
Buy it now: https://amzn.to/2XeztSM
Disclosure: The publisher provided us with a copy of this book in exchange for an honest review.