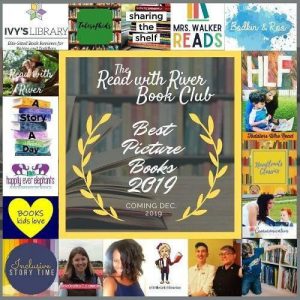 Earlier this year I was invited to join a #bookstagram group called the Read with River Book Club. The group consists of 16 lovely members from around the world, including a number of educators, a speech language pathologist, a paediatrician, social justice activists, a reading education specialist, a few bloggers, a retired literary agent, and some marketers.
It has been an absolute joy getting to know these amazing people and sharing our favourite picture books and thoughts/ideas about the children's book industry.
Between us we have a lot of expertise so we have come together to form a judging panel to create a list of the best new picture books of 2019. Publishers have been invited to send submissions across a number of categories and my dining room table is now awash with stacks and stacks of fantastic books which are awaiting the judging process.
If you follow the hashtag #findmestories_bestof2019 on instagram you'll find reviews of some of our favourites so far and we'll be adding to this in the coming weeks. We'd love you to get involved and let us know which books you think should be included.
We'll be covering 6 categories:
Baby/toddler/board books
Non-fiction
Future Classics
Illustration.
Best Read Aloud
Inspiring Books
The winners will be announced in December so keep an eye out – especially if you're looking for picture book gifts for the holiday period!
If you're interested in finding out more about the Read with River Book Club you can follow our members here:
@readwithriver, @toddlers.who.read, @inclusivestorytime, @noodlenuts_classics, @bookoholicmom, @_mybookaddiction_, @thetinyactivists, @sharing.the.shelf, @astoryaday, @bodkinandroo, @houstonlibraryfinds, @mrswalkerreads, @communication.blooms, @talesofkids and @littledailylibrarian.
For the purposes of this project we are also joined by guest judges @hereweeread, @bookskidslove_ and @happily.ever.elephants.
This is such an exciting project and I can't wait to share the winning books with you!