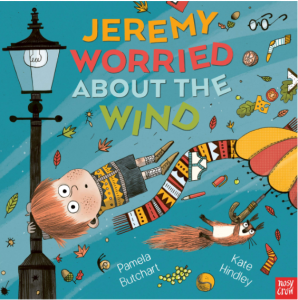 Hands up who has a little worrier? Both Ivy and I have a tendency to be a bit anxious and the current situation has definitely exacerbated this. Who knew there were so many things to stress about?
Jeremy knows all about worries. From morning till night all he can think about is the potential danger swirling all around him, from shoe-eating worms and too-crunchy crackers right through to runaway dinosaurs and evil squirrels. His biggest fear is the wind though – so he tries not go outside on blustery days just in case.
But then one day fastidious Jeremy meets Maggie. With mismatched clothing and trailing shoelaces, she seems an unlikely friend but the two hit it off straight away. Maggie's mantra is 'What's the worst that could happen?' and fearful Jeremy is determined to show her!
Maggie loves to feel the wind in her hair so when she spots the leaves swirling up a storm outside she heads straight for the door. Chivalrous Jeremy runs after her because he wants to keep her safe but a large gust of wind sends him flying up in to the sky.
Jeremy's biggest fear has just become a reality – what's the worst that could happen?
This story is enormous fun and it's a fantastic resource for children who struggle with anxiety and confidence. The early part of the story reassures kids that they're not the only one to feel those niggling worries and the second part shows them what happens if they allow themselves to break free. Jeremy presumes that the consequences of floating off into the wind will be dire, when in fact he has the greatest adventure of his life. Instead of certain death there are narwhals, pirates and magical flying machines!
Kate Hindley's illustrations are fantastic and I particularly love Jeremy's array of wonderfully worried facial expressions!
Buy from Bookshop.org and support independent bookshops: https://uk.bookshop.org/a/155/9781788007757
Buy from Amazon UK: https://amzn.to/3sEiQPT
Note these are affiliate links and Ivy's Library will receive a small commission if you choose to purchase through them.