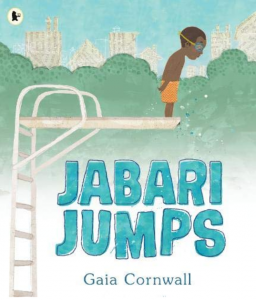 Jabari has just learned to swim, and he is desperate to try jumping from the high diving board. However, when he gets there he isn't quite so sure.
He doesn't want to look weak, so he lets the other children go in front of him and spends a little time stretching and thinking about what kind of jump he might do.
Jabari's fear is stopping him from doing the thing he wants to do the most.
But all this time, his father is alongside him. He helps his son explore how he is feeling and quietly encourages without pushing. The father shares times when he has felt scared too so that his son understands that he is not alone in his fears. And eventually, in his own time, Jabari takes a deep breath and jumps.