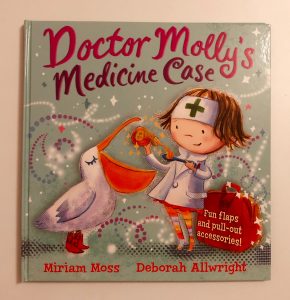 Little Molly loves to dress up and today she has decided to be a doctor. She pops on a white coat and grabs her magical medicine case, which is guaranteed to contain everything she needs to make her patients feel better.
Very soon her little surgery becomes busy. She treats a polar bear with a cold, a crocodile with a broken tail and a pelican who has a sore throat from eating too many bony fish. Each time she opens her bag, the items she needs magically appear – a thermometer and hot water bottle for the bear, some soothing cream and plasters for the croc and some honey and a spoon for the greedy bird.
Soon they all feel better and are off on their way – but Molly is confused when they all come back complaining of rumbling tummies. Can her magical medicine case deliver the goods and help them feel better this time?
This is an amazing book for the mini medics out there. You can lift the flaps to open Molly's case and inside, in a little pocket, there are accessories (made of card) that you can remove and use to 'treat' the patient yourself. Ivy loves using them to play doctor both with the book and also with her other toys. It's also been a useful tool as a parent – she's a lot less reluctant to take medicine from a spoon now that she can role play doing it herself with Doctor Molly!
Buy it now: https://amzn.to/2KLVrGE