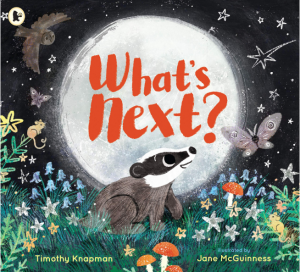 Baby Badger is extremely curious about the world. He explores every detail and corner of his underground home and then asks his Dad "What's Next?". His Dad explains that there's a whole forest up above them so together they head out in to the dark.
Baby Badger sniffs and snuffles, learning everything he can about this new environment. He discovers soft moss and bluebell bulbs and his dad takes him to a spot where he can look at the stars and the perfect full moon. But inevitably, impatience sets in and Baby Badger asks "What's Next?". There are more things to learn and more things to see and he wants to do it all right now.
The Daddy Badger explains it's time for baby badgers to go to bed, but as they return to their sett he tells him about daytime. Baby Badger is so excited that, when his father falls asleep, he creeps quietly out in to the sunshine Utterly intrigued by this bright new world, he returns to the places he visited with bis father and marvels at how different they look during the day.
But soon he realises that he is very sleepy and he doesn't know how to get home. Baby Badger asks "What's Next?" but there is no one there to answer him. Has his curiosity taken him a little too far?
This beautifully-illustrated book really brings to life the contstant push-pull of life with an energetic toddler and the portrayal of the father-son relationship is really heartwarming. Daddy Badger feeds Baby Badger's imagination, allowing him the freedom to explore whilst remaining a reassuring figure in the background, ready to help when necessary.
Buy it now: https://amzn.to/30B5ZCo