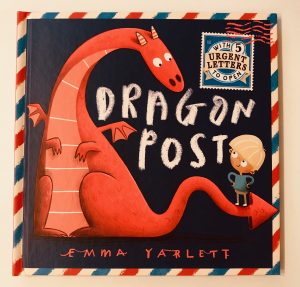 What would you do if you found a dragon living in your basement?
When little Alex finds himself in this situation he is beside himself with excitement but he knows that he's going to have to get some expert advice so that the dragon doesn't burn down his house.
First he writes to the Fire Brigade, who send him back some excellent advice on keeping the dragon cool and moist. Next he contacts a local butcher to find out what the dragon might like to eat. The reply is a little concerning (the butcher is quite keen to find out what dragon meat tastes like!) but offers up some useful suggestions re dragon diets. Soon Alex and his dragon are having lots of fun!
Perhaps this fun is a little too noisy though as they soon receive a letter from a solicitor alerting them to the fact they are causing a disturbance to their neighbours. Eeek! Realising he's a little out of his depth, Alex writes to World Animal Welfare. The reply helps him understand that perhaps his house isn't the best environment for a dragon.
Deep down he knows what he has to do, but he writes one last letter to the wisest person he knows – his best friend Hillary.
This is a fabulous book for toddlers who like to interact with their books. All of the letters come folded in little envelopes which are built in to the pages. Thankfully it's a relatively sturdy book so thus far we haven't experienced any rips or tears despite the fact Ivy plays with it a lot!
It's beautifully illustrated and, although it is about dragons, it teaches a great lesson about looking after pets. It helps children understand that the welfare of the animal must always come first, the environment they live in has to be right for them and looking after them is a lot of hard work!
Buy from Bookshop.org and support independent bookshops: https://uk.bookshop.org/a/155/9781406379716
Buy from Amazon UK: https://amzn.to/2EsdEWT
Note these are affiliate links and Ivy's Library will receive a small commission if you choose to purchase through them.