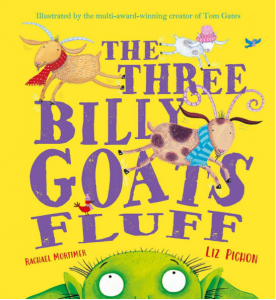 Ivy really enjoys traditional fairy tales so I love it when we discover alternate versions with interesting twists! This new take on 'The Three Billy Goats Gruff' had her giggling from start to finish.
When Mr Troll moves in to a brand new pad he's looking forward to some luxury living, but instead he finds himself under a bridge frequented by a very noisy family of goats – the eponymous Billy Goats Fluff. The trip-trapping of their hooves keeps him awake 24/7, leaving him sleep-deprived and very, very grumpy.
He puts up a carefully worded sign but this doesn't work so he soon finds himself shouting at the goats and threatening to eat them unless they stop waking him up. The three little billy goats are scared so they head home to tell their mum all about the nasty old troll.
Mrs Billy Goat Fluff, who runs a successful knitting business, is somewhat sympathetic to Mr Troll's plight. She knows how hard it is to function on minimal sleep as her youngest billy goat still wakes up a lot during the night. Sitting in her cosy armchair with her knitting on her lap, the wise mother goat comes up with a plan.
The next day the billy goats nervously approach the bridge with a present for the troll and some extra fluffy knitted booties on their hooves. Will their snazzy new footwear result in some solid slumber for the frazzled troll?
We've had our copy of this book for less than a month and it's already beginning to look a little battered from constant re-reads. It's laugh out loud funny and we both love the brightly-coloured illustrations. I guarantee that as a parent you will identify with every wearied expression on the trolls face!
The story encourages kindness and compassion and it provided a great opportunity for Ivy and I to discuss what makes a good neighbour and friend.
Buy it now: https://amzn.to/3l11XL9
Disclosure: The publisher provided us a with a copy of this book in exchange for an honest review.