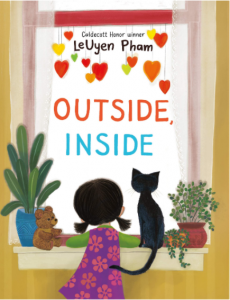 One Whole Year.
I honestly cannot believe that it's been one whole year since we entered lockdown for the first time. I had no idea how long it would last but I genuinely didn't expect to still be under so many restrictions twelve months later. Sometimes it feels like the time has flown, but other times it seems like we have been living this way for decades!
But here we are, and I am marking this strange 'anniversary' with this beautiful book from LeUyen Pham which begins with the lines: 'Something strange happened on an unremarkable day just before the season changed.
Everybody who was outside…went inside.
Everyone. Everywhere. All over the world"
This is the newest additon to our collection of books about the pandemic and it has quickly beome one of our favourites. Although the dreaded virus isn't actually named, the story does a fantastic job of painting a picture of the enormous life change our generation is currently experiencing.
The book is narrated by a little girl and her cat and we follow their lives as the busy streets become empty, the skies become quiet and people just stay home and wait.
But in the midst of all this quiet, something is happening. The birds keep singing, nature keeps growing and our key workers face danger everyday to keep the rest of us safe.
And eventually the day comes, when we can all step out into the sunshine and hold our loved ones close once more. The text is minimal but the illustrations are absolutely stunning, moving from haunting to truly joyful as we progress through the pages.
The whole story is enhanced by a detailed author's note at the back where she talks about her own experience of quarantine and how the book came about. She explains that nearly every face featured is inspired by a real person or real events, some of whom did not survive. It's powerful stuff and I was moved to tears the first time I read it.
This is a wonderful keepsake and for that reason I have purchased two copies – one for Ivy to read and enjoy now and another to keep for her when she is older. It's the kind of book which I could picture her one day reading to her own children and saying 'That was me. I lived through that.'
Buy from Bookshop.org and support independent bookshops: https://uk.bookshop.org/a/155/9781839131172
Buy from Amazon UK: https://amzn.to/3f4SEcP
Note these are affiliate links and Ivy's Library will receive a small commission if you choose to purchase through them.