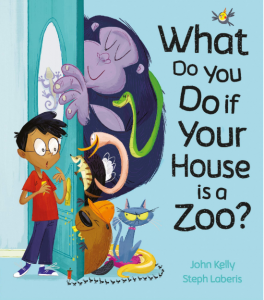 Picking the right pet can be hard. There are so many different animals out there so how are you supposed to choose? The little boy in this story thinks he has the perfect solution. When his mum and dad finally agree to let him have one he places an advert in the local paper asking for possible pets to get in touch.
He receives some promising replies from a pampered pussy cat, a forgetful goldfish and an extremely nibbly goat, but none of them seem quite right. But then the next day he is inundated with post. Gorillas, wolves, horses, emus, bulls and even ants have all written to him in the hope of finding a new home. Now he has so many options that he doesn't know where to begin!
Things go from bad to worse when animals start turning up at his house. A mob of meerkats set up a security post and won't let the family leave the house for their own safety and then some beavers arrive and start building a water feature in the garden!
Soon his parents have had enough and the animals are all sent away. Normal life resumes, but the poor little boy still doesn't have a pet! Then he spots one lonely letter hidden under his chair. It smells and is covered in drool and stray hairs – but could this be the new friend he has been waiting for?
This story is great fun to read and the illustrations do a fantastic job of reflecting the personalities of each of the creatures. Ivy is a big fan of animals so it has been a big hit. She did ask if we could swap our cat for a space monkey though, but I think (hope) she was joking!
Buy it now: https://amzn.to/2Z3CJQ6
Disclosure: The publisher provided us with a copy of this book in exchange for an honest review
Want to see more books about animals? Click here