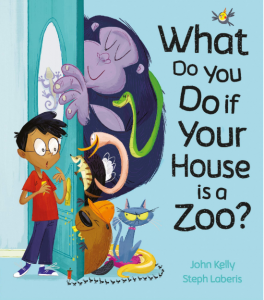 Picking the right pet can be hard. There are so many different animals out there so how are you supposed to choose? The little boy in this story thinks he has the perfect solution. When his mum and dad finally agree to let him have one he places an advert in the local paper asking for possible pets to get in touch.
He receives some promising replies from a pampered pussy cat, a forgetful goldfish and an extremely nibbly goat, but none of them seem quite right. But then the next day he is inundated with post. Gorillas, wolves, horses, emus, bulls and even ants have all written to him in the hope of finding a new home. Now he has so many options that he doesn't know where to begin!
Things go from bad to worse when animals start turning up at his house. A mob of meerkats set up a security post and won't let the family leave the house for their own safety and then some beavers arrive and start building a water feature in the garden!