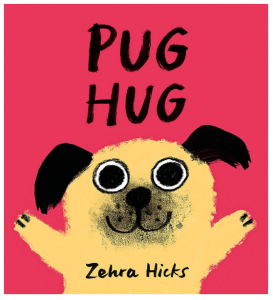 The pug in this book really wants a hug. He asks all of his animal friends but no one seems interested. Hamster is busy spinning on his wheel, Rabbit is eating carrots, Cat just doesn't like hugs, the parrots laugh at him and Fish… well, hugging Fish would be a little tricky.
Feeling dejected, Pug curls up and snuggles himself. His ears prick up when a crocodile offers him a cuddle but he soon realises the croc has ulterior motives! Will Pug ever get the big hug he desires?
This book has been a big hit with us! The vibrant illustrations jump right off the page and Ivy has fallen in love with the adorable Pug character.
If you look closely at the pictures at the start of the book you can spot the source of Pug's sadness and the reason why he needs a hug so badly. I tasked Ivy with finding out why he was feeling miserable and was really chuffed when she spotted it and (spoiler alert!)  made the connection to the happy hugging which occurs at the end of the story.
It's also a really useful story if your child is just starting to learn to read. There's lots of repetition of three letter words like pug, hug and cat, which has given Ivy the confidence to try and read some portions herself.
Buy it now: https://amzn.to/2VsbJfh
Disclosure: The publiher provided us with a copy of this book in exchange for an honest review.