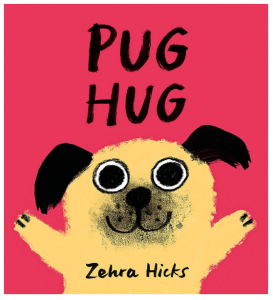 The pug in this book really wants a hug. He asks all of his animal friends but no one seems interested. Hamster is busy spinning on his wheel, Rabbit is eating carrots, Cat just doesn't like hugs, the parrots laugh at him and Fish… well, hugging Fish would be a little tricky.
Feeling dejected, Pug curls up and snuggles himself. His ears prick up when a crocodile offers him a cuddle but he soon realises the croc has ulterior motives! Will Pug ever get the big hug he desires?
This book has been a big hit with us! The vibrant illustrations jump right off the page and Ivy has fallen in love with the adorable Pug character.