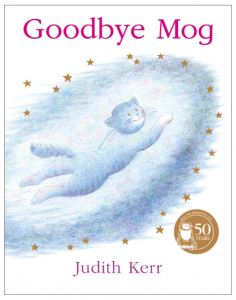 Most people are familiar with the series of books about Mog, written by the wonderful Judith Kerr. The very first one, Mog the Forgetful Cat, was published in 1970 and since then there have been many stories about this feisty feline and his owners, the Thomas family. But did you know that in one of the last books written about Mog, she dies? Written to help children work through feelings of grief and loss, Goodbye Mog is a touching story about the death of a much-loved pet.
Mog is old now and very tired so one day she decides that the best thing to do would be to sleep forever.
She watches over the Thomas family as they cry sad tears and lay their pet to rest in their garden. She listens as the children share fond memories of the things they did together.
And then one day Mog watches as a new kitten arrives.
The kitten is tiny, fearful, and nothing like Mog at all. It runs away from noise, is scared of newspapers and hates to be picked up. Soon the Thomas family start to think that perhaps this is the wrong kind of pet for them. Deep down they want Mog back and this little ball of fluff is nothing like her. But then Mog discovers that the kitten can see her, and something wonderful happens…
This is a heart-warming story which teaches childen that when you love someone they never truly leave you. Mog's spirit is with them every day and helps them to move forward in their grief. Death is a very difficult subject to discuss with children, but here Judith Kerr handles it with warmth and sensitivity.
Buy it now: https://amzn.to/3bYxojB