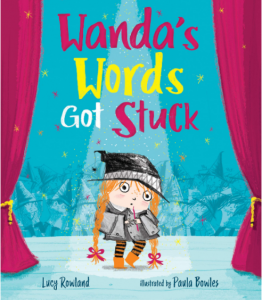 Wanda's words have a sneaky habit of getting stuck. Whenever she tries to speak, the words just won't come out and this makes her feel nervous and small in front of her teacher and the other children. Everyone else just seems so confident so why can't she be the same?
Wanda struggles along until one day a new girl joins her class. Flo looks nervously at her new classmates before dropping her eyes to the ground and blushing. In the playground Wanda gives her a little wave and a smile and soon the two are playing quietly alongside each other. They slip into an easy and comfortable friendship where few words are needed. The two girls just seem to 'get' each other.
Later that week their teacher announces something which terrifies them both – a school magic contest in which they will have perform a spell in front of the class! Flo and Wanda decide to work together but when the big day arrives they are both dizzy with nerves.
They step out on to the stage and begin their routine but something goes wrong and Flo accidentally conjures an extremely large fire-breathing dragon. Will Wanda be able to overcome her fear of public speaking and shout the magic word which will save her friend?
Written by a speech and language therapist, this beautiful rhyming story is designed to help children who may have difficulty communicating. It's a very comforting read and the illustrations are fabulous. Ivy and I have really enjoyed exploring all the little witchy details in the pictures, particularly the crazy jars of ingredients on the classroom shelves.
Our favourite element of the story though is Wanda herself. She has such an expressive little face and you can really see the journey that she goes on as the story moves along, from the joy of finding a new friend through to the genuine fear she feels about the contest.
As a shy, introverted adult I love everything about this book and I identify with Wanda in a big way!
Buy it now: https://amzn.to/2Ja4mF6
Disclosure: The publisher provided us with a copy of this book in exchange for an honest review.