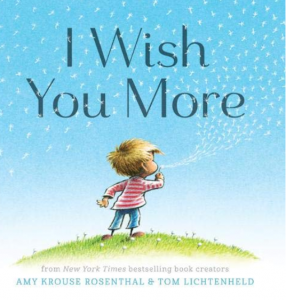 What wishes do you have for your child's future? I have far more than I could ever put into words, which is probably why I am drawn to this heartwarming picture book (and why it made me cry the first time I read it!).
A love letter from parent to child, the beautifully-illustrated pages outline a myriad of hopes and dreams. Unsurprisingly, the narrator wishes for health and happiness, joy and wonder but the clever word play injects an element of fun.
Ivy's favourite wishes are "I wish you more bubbles than bath" and "I wish you more WOO-HOO than WHOA!". Personally I am drawn to "I wish you more hugs than ughs" and "I wish you more stories than stars".
The adorable illustrations show a diverse group of children all having fun and living their best lives. It's a joyous celebration of the wonder of life and I love it!
I've already purchased a copy as a present for a new baby, but I actually think it would work for a wide range of milestones right through to adulthood. It feels especially poignant right now, so if you're looking for a thoughtful gift for a loved one then I would encourage you to check this one out.
Buy from Bookshop.org and support independent bookshops: https://uk.bookshop.org/a/155/9781797208350
Buy from Amazon UK: https://amzn.to/3hLX47N
Note these are affiliate links and Ivy's Library will receive a small commission if you choose to purchase through them.
Disclosure: The publisher provided us with a copy of this book in exchange for an honest review.