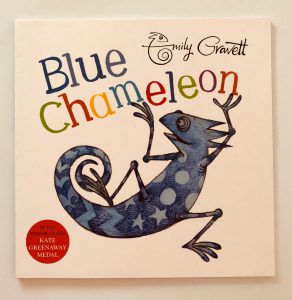 Blue Chameleon by Emily Gravett is a really simple book but we have spent hours reading it and talking about all the questions which the beautiful illustrations present you with.
At the start of the story the little chameleon is feeling blue because he doesn't have any friends. Each of the following pages shows him trying (and failing) to make friends with a different animal or object the only way he knows how – by changing colour!
He turns yellow to chat to a banana but the banana doesn't want to talk. He rolls himself up and dons purple spots to speak to a spotty ball but the ball isn't interested. The same goes for a brown boot,  a green grasshopper, a goldfish and many many more. Will poor chameleon ever find a friend? (Spoiler alert – yes he does!)
Each page only features a handful of words – usually just the colour the chameleon has changed in to and the name of the item he's trying to imitate – but somehow it really manages to draw you in and gives you so much to talk about with your child. Whilst reading it we've discussed colours, shapes, why (and how!) chameleons change colour, what invisibility means and why some boots have spurs (I had to look that last one up!).
Buy it now: https://amzn.to/2OJTgVx