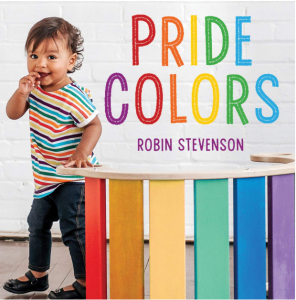 We adore this little book which teaches children colours whilst celebrating diversity and unconditional love.
The gentle rhyme encourages kids to step out in to the sun and be exactly who they are, safe in the knowledge that their families will always love them. The accompanying pictures show happy children from around the world, along with photographs of families with same sex parents.
We are introduced to the colours from the Pride flag, and a special section at the back tells you about Pride Day and the special significance of each colour.
This is a sturdy board book which means it's perfect for even the littlest libraries and the use of colour and real photos is really engaging.
At the moment it features in our bedtime story selection most nights and Ivy calls it the 'Mummy Cuddle' book as her favourite page shows a baby being held by two mums.
I think this is an important book on two levels. Firstly, it gives the children of same sex couples the opportunity to see themselves represented, because sadly there aren't that many books on the market which do this. Secondly, it introduces other children to the fact that all families are different but the love they feel is the same. Highly recommended!
Buy it now: https://amzn.to/2HKxazE