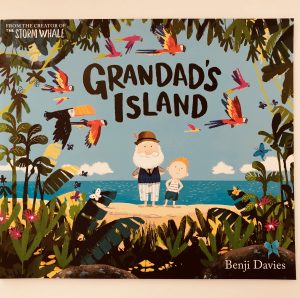 Grandad's Island is one of those books that I think every child should read. It covers the sensitive topic of bereavement but in a really smart and beautiful way which helps the child grasp the concept as best they can at a young age.
The story is about a little a little boy called Syd whose beloved Grandad lives in a house at the bottom of the garden.  One day Syd pops around but he can't find his Grandad anywhere. He searches the house and eventually finds him up in the attic where he has prepared an adventure.
They go through a magical door which takes them to a ship and then sail the oceans until they reach a tropical island. Look closely at the illustrations and you can see that the wonderful treasures on the island echo the pictures and keepsakes you see in Grandad's house in the first few pages. On this island Grandad is surrounded by all of his favourite things – and he doesn't need to use his walking stick to get around anymore! They build a shack, swim together in the waterfall and play with all of the exciting animals they find.