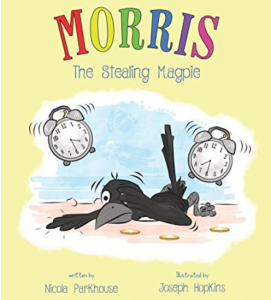 Morris is a magpie with a penchant for all things shiny. Whenever he spots something made of silver, brass or gold he can't resist picking it up and taking it to his nest. The problem is that all these beautiful items belong to other people!
He steals jewels from the Queen's crown, wind chimes from a garden, a bell from a cow and even a musical instrument from a small child. It doesn't matter to him that he made the little girl cry, he believes that all the shiny things should belong to him and therefore he should be allowed to just take what he pleases.
However, when Morris steals a silver alarm clock he gets a lot more than he bargained for. Sleep is extremely important to him, so he's horrified when this shiny new object starts to ring loudly at 4.30 in the morning. Then 5.30. Then 6.30. Then 7.30….