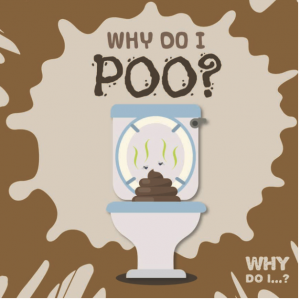 If your child finds bodily functions hilarious (and to be honest what toddler doesn't?) then this little primer on the science of poo should definitely be on your bookshelf!
Filled with facts about the digestive system, it follows our food from the first bite, down through the body and right out the other end. We learn what poo is made of and why it can look different when we have an upset tummy. There's even a 'Rate Your Poo' page with a child-friendly version of the Bristol Stool Chart!
The book contains a lot of detail but the illustrations make it toddler-friendly so you can adapt your reading/language to the right level for your child. For example, at 3.5, Ivy doesn't really understand the concept of different types of nutrients so I skim over this part and will revisit when she's a little bit older – but she absolutely loves the section which explains how a pizza turns in to poo!