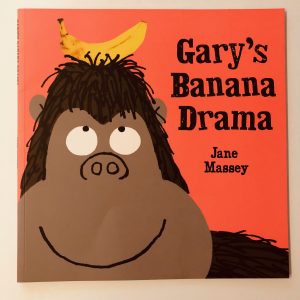 Poor Gary the Gorilla. He absolutely loves bananas but one day he discovers that there are no more left. What on earth is he going to do? But Gary doesn't panic. He puts on his hat and heads out to try and find some.
Fortunately he spots some of his favourite fruit right outside his house – what luck! But no. Poor Gary realises he is hallucinating when the 'bananas' start to woof. He walks all around the town seeing 'bananas' everywhere he goes – but there isn't a single real banana in sight!
Eventually he bumps in to a giant banana which turns out to be a rocket and when he looks up he sees what looks like a banana in the night sky. He hops in the rocket and heads for the stars. Is it possible that he could find bananas in space?