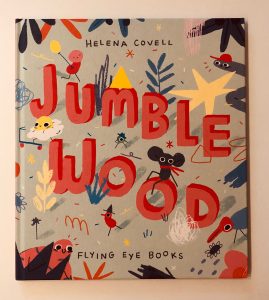 In a quirky little world called Jumble Wood there lives a multitude of cute little creatures. Each of them has a thing they carry around with them which makes them happy. There are creatures with flowers, creatures with balloons, creatures with sunglasses or hats and even creatures with scooters and skateboards!
But there is one little creature called Pod who doesn't have a happy thing, and this makes her very sad. She decides that the thing that will make her happy must be hiding out there somewhere so she sets off on a journey to find it. Along the way Pod meets Peach and Worm who help her in her quest
Together they venture in to the deepest and darkest part of the wood in search of the hard-to-find thing which will finally make Pod happy. Will they find it? Or will Pod realise that a happy thing doesn't have to be a thing at all?