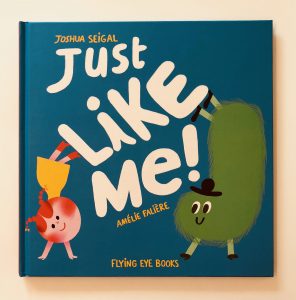 This book is fantastic for alleviating boredom when you're stuck indoors with a toddler and it's lots of fun for parent and child alike.
The two main characters – a little girl and a fluffy green monster wearing a rather fetching hat – invite their animal friends (and you) to copy them in a game called 'Just Like Me'.
Clear some space on the floor and get your toddler to repeat all of the actions which the characters make. From rubbing your tummy and licking your lips to jumping up and down picking your nose, each page invites you and your child to do something silly that will make you laugh.
I find that the more exaggerated I make the actions then the more Ivy laughs and she loves getting involved. It also references lots of parts of the body so it's a great way of learning some new words whilst having fun.
Buy it now: https://amzn.to/2uI3yzB