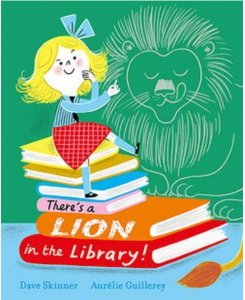 With her little dimples and tiny button nose, Lucy Lupin looks utterly adorable. However if you take a peek below the surface, Lucy isn't quite what she seems. She's actually pretty mean and she loves to tell big juicy lies!
One Monday morning she goes to the library and tells the biggest lie she can think of. She walks right up to the Librarian and tells her there's a lion in the history section, eating a book about the Ancient Egyptians. The Librarian takes one look at cute little Lucy and presumes she must be telling the truth. The library is evacuated and the police are called but there's no sign of a lion anywhere. Everyone is perplexed, except little Lucy who finds the whole thing hilarious.
In fact, she enjoys the lie so much that she goes back and repeats it again and again. On Tuesday she informs the Caretaker that there's a lion in the romance section, and on Wednesday she tells the Coffee Shop Manager there's a lion in the geography section. Soon the adults at the library cotton on to the fact that adorable little Lucy isn't actually adorable at all.