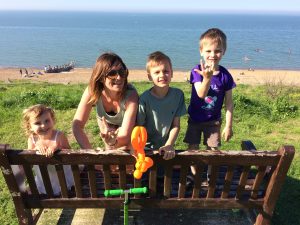 Tell us a little bit about yourself and your family
Hi everyone, my name is Niki and I am a mum of three to Archie 8, Baxter 5 and Luna 3. I am married to Chris and we all live in South London. We love going to the local parks, woods, museums and of course, reading!
What are your children's favourite books?
Luna's favourite book changes all the time, but this week it's 'Oi Dog' by Kes and Claire Gray. It's a funny book that we enjoy reading together and Luna likes to shout out the rhyming words and loves the illustrations by Jim Field. It was great to see that this year the World Book Day chose the 'Oi Goat' book from the same series. I can't wait to see which animals they are going to use in the next instalment.