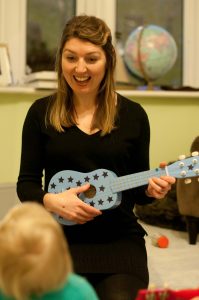 Tell us a little bit about yourself and your family
Hi, I'm Sarah and I'm based in Honor Oak Park in South East London, along with my husband and children – Edward (aged 5) and Alice (who is 2). Last year I decided to take the plunge and start doing something I've always wanted to do – teaching preschool music, drama and dance! It's been a whirlwind of a year, but I've absolutely loved meeting so many local children and parents – and I've had a lot of support from my two most demanding fans at home!!
What are your children's favourite books?
Reading together is often our most special part of the day, and we love sinking into our imaginations in different books. My son has a book called 'Magic Beach' by Alison Lester that he loves reading to me – the story intersperses between what an adult might see happening on a beach and the kingdom of imagination that children possess! We're also big fans of Everybunny Dance by Ellie Sandall, for which we've invented actions and songs!!