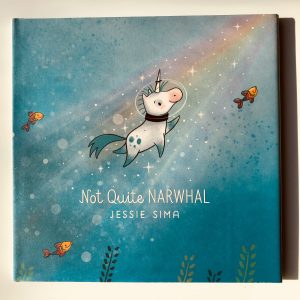 Not Quite Narwhal by Jessie Sima is a glorious little book about discovering your true self.
Kelp is born in the ocean and grows up believing he's a Narwhal like his friends – but deep down he knows he's a little bit different.
One day he gets swept away by a strong current and finds himself close to the shore. Up on a cliff he spots a majestic horned creature which looks just like him.
Is he brave enough to venture on to land and discover who he really is? And if he does, will he ever be able to return to his Narwhal friends?
This book carries such a great message about inclusion, diversity and being true to yourself.
Highly recommended – and the illustrations are some of the loveliest I've seen.
Buy it now: http://amzn.to/2BIhl8H