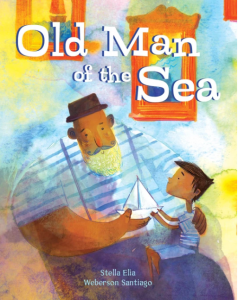 This evening we are extremely excited to be sharing our thoughts on a brand new book from Lantana Publishing as part of the official #oldmanofthesea bookstagram tour.
This beautifully illustrated story looks at the quiet relationship between a boy and his ailing grandfather. Every Sunday they sit together and talk or share a comfortable silence, until one day the Grandfather decides the time has come to share tales of his life with the boy. And what a life!
Grandpa was a sailor who circumnavigated the world and fell in love with each continent he discovered. He picnicked in olive groves with Europe, climbed sand dunes with Africa, explored temples with Asia and went diving with Oceania. The love he felt for these lands was strong, but not as strong as the lure of the sea. Eventually he always found himself back in his boat in search of a new adventure.