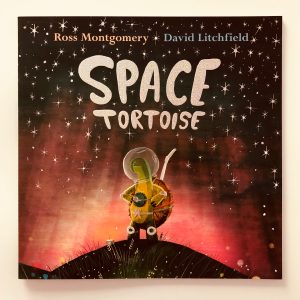 This lovely story is about a little tortoise who lives all on his own in a bin in a disused old park. He has a nice cosy home but his life is missing one thing – friends! He has searched all over the park but has never seen another animal so he feels very lonely.
One evening, as he sits holding a tiny candle and gazing out at the world, he spots lots of little lights in the sky. He wonders if it is possible there are lots of other animals up there also holding candles, and if so, how can he get to them?
The next day he finds a book about rockets so he fashions himself a space suit and sets off in the direction of what looks like a rocket in the distance. He braves a great desert (a sandpit) and sails across a wide ocean (a paddling pool) but when he gets there the rocket isn't quite what it first seemed.