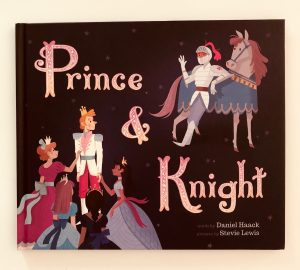 I think representation is SO important in children's books so when I spotted this LGBT-friendly book I knew we had to add it to our library.
Prince & Knight is a beautiful fairy tale set in a magical world of castles and dragons which has a wonderfully diverse twist. The prince of the realm has come of age so his parents set about trying to help him find a bride. He meets many, many ladies but none of them catch his eye. He's looking for something different but he just doesn't know what that is.
Whilst they are on their travels, the kingdom is attacked by a mighty dragon and it seems like all may be lost. The brave Prince rides off on his horse and soon come face to face with the fire-breathing monster – but it seems that he will not have to fight this battle alone. A magnificent Knight appears and they work together to bring the evil dragon down.