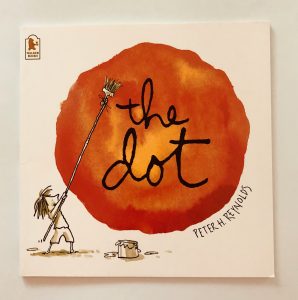 We love this book by Peter H. Reynolds and i'm not ashamed to say it made me cry the first time we read it!
Vashti is a little girl who thinks she can't draw. Whilst all of her friends paint and create in art class, she just sits and stares at the plain white paper, defeated. Her teacher challenges her to draw a dot in the middle of the page and then asks her to sign it. She jabs a dot with her pen, signs her name and then skulks out of the classroom.
The next week when she walks in to the art room she sees her dot (and signature!) on the wall, displayed in a lovely shiny frame. Inspired, she sets out to draw a better dot and then a better dot and then an even better dot than that. Soon she's so good at drawing imaginative, colourful dots that the schools puts them on display at an art show.