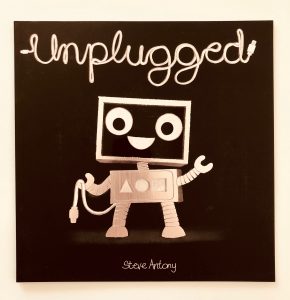 This fantastic book will be a useful tool for any parent whose child loves screen time a little bit too much.
Blip is a little robot who loves to play on her computer all day long. She uses it to learn new things, to see faraway lands, to listen to music and to challenge herself with puzzles and games. But then one day there's a power cut and she trips over her wire, tumbles out of her house and down a hill and ends up drifting down a river in to a forest.
This is unknown territory for Blip – she is outside and unplugged! What will happen to her and what will she learn in the great outdoors?
The imagery in this book is beautiful and I love the way the pictures move from monochrome and 'blocky' when Blip is on her computer to bright colours and soft lines when she is outside. Blip herself is adorable and Ivy thinks she's super cute!