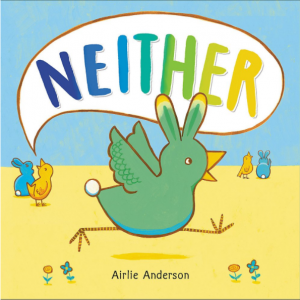 If you're looking for picture books which teach acceptance and encourage children to celebrate their differences then you NEED to have this story on your shelf. It's such a simple story but it packs a very powerful punch.
In The Land of This and That there are two types of creatures – blue bunnies and yellow birds. Everyone is either one or the other, until the day an egg hatches and out pops Neither.
Neither isn't a blue bunny or a yellow bird so everyone is a little confused. They see their green body, their bunny ears and their bird-like feet and they demand to know what they are. They cheerfully explains that they're both but the creatures of the land declare this impossible. They can't be both therefore they must be neither.