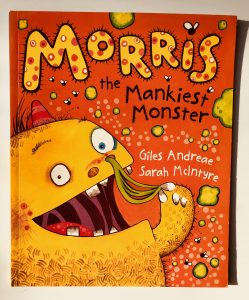 Ivy recently received this one as a birthday gift and she LOVES it. The grotty humour is perfect for a toddler – Ivy says 'bleurghhh' and laughs at every page.
Morris is a manky monster with some extremely bad habits. He picks his scabs, bathes in sewage, eats mould from his toes and washes his hair in the loo. You get the idea!
A very funny book with fantastic illustrations, but I wouldn't advise reading it if you're feeling a bit nauseous. It might just push you over the edge!
Buy it now: http://amzn.to/2kqg91M