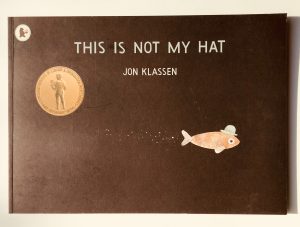 One of our followers pointed out to me earlier today that it is National Hat Day and we should therefore do a post about hats! Naturally this made me think of Jon Klassen's epic hat books which always have Ivy and I in fits of giggles.
Our current favourite is 'This is not my hat' which tells the story of a cheeky little fish who has stolen a hat. He's not worried because he's pretty sure that he'll get away with it – but the big fish he stole from definitely wants his hat back. We love the deadpan humour and the fact the text tells a very different story to the pictures.
The minimalist illustrations are fantastic and there is a great sense of tension as the story gathers pace.
Buy it now: http://amzn.to/2DcJrNL