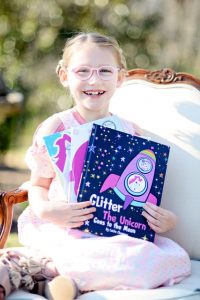 We're really excited about reviewing this book as it's a little bit special. Not only does it feature one of our favourite things – unicorns – but the author is only 7 years old!
When she was just 6, Callie Chapman won a contest with her story about a magical unicorn called Glitter and her best friend Ellie. This was published as a book (Glitter The Unicorn) and since then Callie has added two more to the series (Glitter The Unicorn Goes To The Beach and Glitter The Unicorn Goes To The Moon). We have all three and Ivy loves them!
Glitter The Unicorn Goes To The Moon is the newest title (and our favourite) so we're reviewing that one here.
It's Glitter's birthday so her best friend Ellie has bought her some tickets to visit the moon. They hop in to their rocket ship and head for the stars, both bubbling with excitement at what they might see on their trip. When they arrive on the moon they meet the Queen who tells them she has lost her magical crown. Glitter and Ellie offer to help and they set off on a mad cap journey across the universe which sees them fishing for stars on Saturn and conversing with an alien on Pluto. Can they complete the quest and get the magical crown back to the Queen?
Ivy loves the story and yells "Unicorn!" every time I turn the page. For me the attraction is in the storytelling. You can truly see that it's been written by a child with a fantastic imagination, and her enthusiasm jumps off every page. It's all tied together with beautiful illustrations – by Callie's mum Bronwyne – which capture the spirit of Glitter and Ellie (and Callie!) perfectly.
All proceeds from her books go to her local children's hospital and so far she has donated over $3,000. Not bad for a 7 year old! You can read more about Callie and Glitter at www.glittertheunicorn.com
Buy it now: http://amzn.to/2FMmFtf