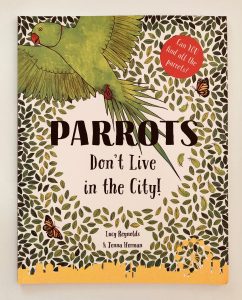 This fab book was recently recommended to us by one of our Instagram followers and it has quickly become one of our favourites because it is easy for Ivy to relate to. We live in South East London where there is a very large population of wild green parrots (rose-ringed parakeets, to be precise!) and they often come and sit in the trees in our garden. We have lots of fun trying to spot them amongst the leaves and this book now lets us extend the game inside!
The story is about a brother and sister who are playing with their kite in a city park. Jack spots what he thinks is a parrot flying in to one of the trees but Emily doesn't believe him. She tells him that he couldn't possibly have seen one because parrots live in the jungle and not in the city! After an unsuccessful search Jack admits he must have been wrong and goes back to playing with his kite. Suddenly his kite hits a tree and a whole host of green birds come bursting out. Could Jack have been right all along?
The illustrations in this one are fantastic and Ivy spends ages trying to find all the parrots which are hidden amongst the leafy images. There's a little key at the front of the book which shows you lots of other mini beasts which also make an appearance, including worms, ladybirds, ants, beetles, snails, caterpillars and bees.
The last few pages feature fun facts about parrots and it encourages your child to think about how the parrots may have ended up making the city their home. Our copy also has a little green feather stuck to the last page which is a really cute touch!
Buy it now: https://amzn.to/2L498iW