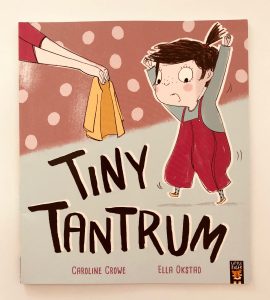 We were recently recommended this book by one of our followers and i'm really happy we bought it as it's fantastic. Ivy has recently turned two and a half so tantrums are (unfortunately!) now a part of everyday life. This means I am always on the lookout for books which may alleviate the stress a little!
The story is about a little girl called Tiny who has lots of tantrums. Every time her mummy asks her to do something she yells and screams and stamps her feet, refusing to oblige. However one day she is joined by an array of fluffy monsters who help her understand that there are better ways of dealing with her anger. From wiggling your bottom to flushing your tantrums down the loo, these monsters have lots of creative ideas on how to get rid of the grumps.
This one gets a big thumbs up from us as it makes Ivy laugh out loud. Additionally, there are lots of opportunities to put on silly monster voices and there's a funky song at the end. The illustrations are lovely and definitely capture the drama of being a toddler!
Buy it now: https://amzn.to/2MvWZoH