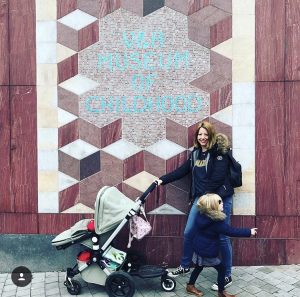 Tell us a little bit about yourself and your family
I am Sally and I have a 3 year old daughter Ivy and a 1 year old son Tom.  I previously worked at the Imperial War Museum for 10 years. My current job is a tour guide at the Churchill War Rooms and I have started up a blog called Milk at the Museum.
I started Milk at the Museum because when I had children I could not afford the childcare costs to allow me to go back to work.  I had been on Instagram a while and it suddenly dawned on me its potential in getting information out there.  I noticed that there was not one place you could go to, to find out all the family friendly activities going on in Museums and that's where it all began.  Museums are a huge passion of mine and I have really enjoyed the Milk at the Museum journey so far.
What are your children's favourite books?
Tom is only 1 so at the moment just enjoys any hard books with dogs in them that make noises.  Ivy loves so many books but The Tiger Who Came To Tea by Judith Kerr is a popular choice.  It is such a simple story with beautiful illustrations and the Tiger is just a wonderful character, I mean imagine a tiger coming to tea, really gets her imagination running wild.
Which book do you most like reading to them and why?
At the moment I am really enjoying reading The Strongest Mum by Nicola Kent which I got from the Tate.  It is about a Little Bear whose Mum is the strongest mum in the world.  A lovely story about a parent-child relationship which really helps in teaching the kiddies that Mummy needs some help and looking after too. The bright illustrations and the characters are also really engaging.
Who is your favourite children's author and why?
I am a massive fan of Roald Dahl, I will never forget being read 'The Twits' when I was younger and being hooked from start to finish.  His characters are mesmerising and the stories totally capture your imagination.
What do you look for when shopping for a new book for your child?
The illustrations are a massive deal when finding a new book. At the end of the day it is the images that really engage a 3 year old.  I love a story that ignites a child's imagination and keeps them really gripped. I quite often look for books that are relatable to my child's experiences, e.g. going to school or visiting the doctor.  I also enjoy books that have an underlining message e.g. inspiring women, being kind, accepting of others etc.
Do you have a favourite children's bookshop? What makes them great?
My favourite place to buy books is at the Museum of Childhood and Tate.  They both have a vast selection of books that are just beautiful, from the classics to the more modern stories. I find it so hard to choose.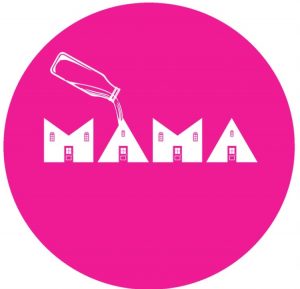 About Milk At The Museum
With vast experience spanning a number of different museum roles, including tour guide, supervisor and events planner, I have held positions at the Imperial War Museum, Churchill War Rooms and V&A.  I am now committed to my own project, Milk at the Museum, a service which helps families get the most from London's museums.  I aim to keep you updated on all things museum as well as chatting to museum staff and fans along the way.
Visit my blog to find out more – www.milkatthemuseum.com