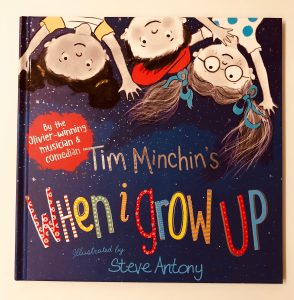 The first time I read this book aloud I found myself practically singing the words because of the way they flow and bounce along. I later discovered this is because they are the lyrics to an actual song from Tim Minchin's musical version of Matilda (which I haven't seen yet but it's definitely on my list).
The words take you on a journey through adulthood as imagined by a child. When there are so many rules imposed on you by grown-ups it's easy to believe that when you become one yourself you can just do whatever you want with no consequences. The children here look forward to a future where they know the answer to every question, eat sweets and treats every day, stay up all night and watch cartoons until their eyes go square!
It's beautifully written but the real treat here is the imagery. Steve Antony's illustrations are the perfect match for Tim Minchin's lyrics and I spot something different each time we read it as the detail is incredible. The children ride their bikes to work past skyscrapers topped with ice creams and bus stops made of candy cane. They sit atop the dragons and unicorns they see in their cartoons. They stand on the shoulders of the tallest statues. They splash in the waters of a giant fountain and they gaze in to the stars imagining this wonderful future of theirs.
This one would make a great gift for a small child and it's also a lovely reminder to us grown-ups that, as long as we're not hurting anyone else, we should live our lives by our own rules.
Buy it now: https://amzn.to/2I8uuKm