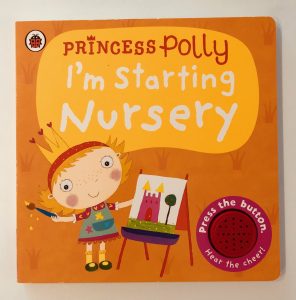 Ivy loves Princess Polly so we have most of this series either on our shelf or stashed ready for her to read when the time is appropriate. This title is about starting nursery (which she will be doing early next year) so we've recently introduced it to our rotation.
The book starts with an apprehensive Princess Polly. She's not sure about starting nursery because she doesn't know what it will be like and she's worried she'll miss her parents. She visits with her Mummy and sees lots of children having fun which sets her mind at ease.
After some settling in sessions she has her first full day and the book shows all the things your child can expect to experience at nursery – from the activities they'll do,  like painting, playing and singing to the format of the day, like snacks, naps and story time.
This is a really reassuring little board book which addresses your child's potential fears about nursery but also shows them how much fun they will have. There's even a little button which emits a cheer when pressed so you can ramp up the excitement!
We have the Princess Polly book but if you have boys you can opt for the Pirate Pete version (which is identical except for the main character).
Buy the Princess Polly version: https://amzn.to/2vVTb8y
Buy the Pirate Pete version: https://amzn.to/2B4GSNk